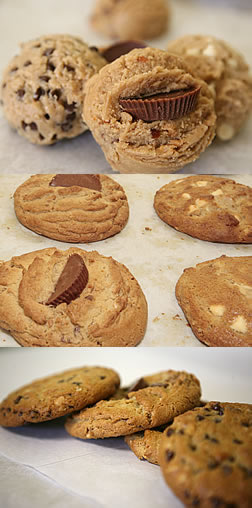 Passion Bakery Café is a wholesale and retail bakery located in the Kinipopo Village on Kauai's East Side in Kapaa. Stop in to sample our fresh homemade cookies, pastries or a Croiscone (it's a cross between a croissant and a scone). Our coffee and tea bar rivals the European coffee shops with only the finest Italian espresso coffee served. We also offer sheet pan gourmet pizza and sell pizza by the slice. Our pizza is made from scratch using only the finest ingredients.
Homemade Artisan Breads
Artisan Breads made Tuesday through Saturday, Italian flatbread, sourdough, multigrain to Hawaiian sweet breads all from scratch with wonderful crust and deep flavor. You know you are eating real bread when you bite into ours. Come in and have a slice of toast with butter and locally made jam.
Cookies Are Our Speciality
We currently make five cookies using organic flour, Chocolate chip mac nut, Kauai Coffee whole bean peaberry coffee chocolate chip mac nut cookies (really good for coffee lovers), White chocolate chip mac nut, oatmeal cranberry mac nut and peanut butter cup peanut butter cookies. We use Reese's peanut butter cups, Ghirardelli chocolate chips, and Ghirardelli white chocolate chips in our cookies as well as real butter and organic flour. Purchase our cookies to go or to take back home as gifts in a variety of pre-packaged sizes. Fundraiser packages available to schools and churches.
Wholesale Business
We currently sell, baked and wrapped cookies and raw pre-shaped dough to a handful of local businesses including Kauai Coffee Company. Contact us for wholesale sales.